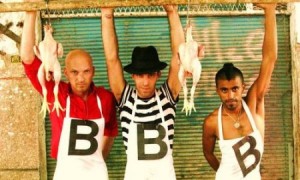 In terms of musical descriptors, "fusion" has almost always signalled to me that I'm about to hear an act that has taken the worst aspects of Jazz1 and some World music and mooshed them together into an uncomfortable wankfest designed to make 'ethnic' music palatable to North Americans. That probably sounds harsh, right?  But it's my immediate assumption, and it's informed by experience.  Though I'm no purist, I find a lot of fusion acts seem to miss what's awesome about the styles they're drawing from.2
I think it was an inevitable phase, the awkward teen years of the newly culturally-interconnected world, where artists were colliding into each other and kind-of liking what they were discovering but weren't really sure what to do with it.  And I'm happy to say that we seem to be moving past the worst of it, as people who were raised with a wider perspective than their immediate surroundings find more natural-feeling intersections between musical styles.
All of this is introduction to a band that immediately caught at my ears a few years ago, when they came my way as part of an agency sampler.3 Balkan Beat Box take the music of the Mediterranean as the base upon which they build a global sound, one that pairs the strut and confidence, the braggadocio of many great musical genres, including Hip Hop, with a social conscience.  Big danceable rhythms bring the spirit of celebration from parties around the world, while the lyrics and melodies compel you to sing along. It seems like we're in the middle of a Balkan music takeover, and I, for one, couldn't be happier.
When I was growing up, a kid in a tiny rural village in Ontario, I'd catch snippets of music (in film soundtracks, mostly) that made me want more. But in a time before wide access to the internet, there was no way for me to track these things down.  In university, I was browsing through the CDs at Blue Streak Records4 and came across Kočani Orkestar's L'Orient Est Rouge; I bought it on a whim, and it immediately became one of my favourite albums.  The big, loose brass sound of this Macedonian band with Romani influences was my real introduction to Balkan music, and I couldn't have stumbled upon a better band.  I hear echoes of it in my ol'favourites, The Silver Hearts, and in a New Orleans Second Line, and of course in Balkan Beat Box.  It turns out that I've got a bit of a brass addiction.
The other great thing about Balkan Beat Box is that their lyrics, while compulsively singable, are full of messages I can get behind.  I can scream them at the top of my lungs without feeling like, by singing along, I'm compromising my beliefs or supporting a system I believe to be false.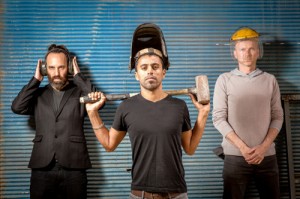 I often have this problem with Hip Hop, where the artistry is undeniable5 but the politics, particularly the gender politics, are sometimes horrible.6 Balkan Beat Box come from a different milieu, and bring a different mix of cultural influences into play, and wildly different views of the world.
BBB were in Toronto a few years ago as part of the Ashkenaz Festival, and I've been kicking myself since then for missing that show; here's hoping that they'll come back this way soon.
In the meantime, check out 'War Again,' a song that's both endlessly relevant and compulsively danceable.  It was the first Balkan Beat Box song I heard, and it's still guaranteed to get me up on my feet.