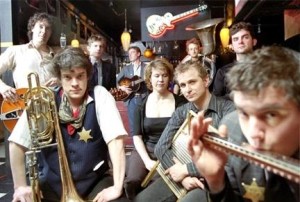 Sometimes The Silver Hearts ((I created the website!)) come up in conversation, and someone invariably asks "Who are The Silver Hearts?" and that always seems a bit weird to me.  If you haven't heard of them, that's perfectly reasonable, but they loom so large in my own musical history, and indeed in my hometown's musical history, that it's difficult to explain – merely saying that they're kind-of an Alt. Country band doesn't really do the trick.
Back in my hometown, there's a bar called The Montreal House.1  It has a long and colourful history; as I understand it, it was originally operated by nuns as a stage-coach stop, eventually converting to a bar.  In my lifetime, it was one of Canada's last male-only bars, and when I started going there in university for karaoke nights, they'd only just put in a women's bathroom – one toilet, in a broom closet.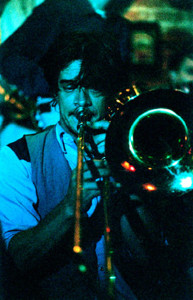 The Silver Hearts started playing a free weekly gig there around that time – maybe sometime in 2000? Every Wednesday night, the place would be packed with students and people from the local arts community.  Their bio described the band as a beer-hall orchestra, and it's a great description; jangly pianos, raucous brass, wailing harmonicas, and an eery theremin gave them a sound unlike anything else on the music scene at the time. It was mournful, booze-soaked, party music.  It was atmospheric, sensitive, and literate.  It was fresh and new while drawing deeply on half-forgotten musical traditions.  It was pretty damned near perfect.
At the recent Folk Music Ontario conference, someone said to me that there's a distinct Peterborough sound, and I think that The Silver Hearts are the reason.  A huge number of groups and solo performers have played in the band, or with the band, or grew up on the music.  The number of musical projects by members of The Silver Hearts could fill a playlist as varied and weird and enjoyable as any.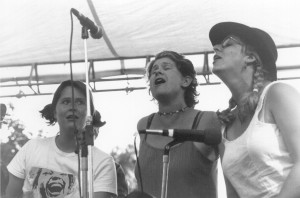 Even more than that, they gave an example.  In university, I'd known plenty of touring acts from across the country – I'd worked as a promoter for a few years – but very few of my local friends were quite ready to make that leap.2  When The Silver Hearts hit the road, they opened the door. They showed local musicians that you didn't need to be a rock band to tour.
These days, huge bands and unusual instruments are thick on the ground in the music scene, as is Alt. Country, and it's something I'm generally really enjoying.  But the macabre, cinematic, and darkly humorous approach, sometimes veering for a moment to the earnestly emotional, requires a light touch that The Silver Hearts3 were able to manage, where other bands have gone off the rails.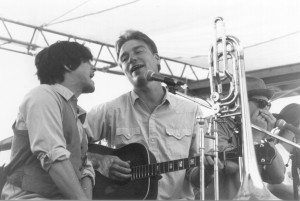 There were years when The Silver Hearts were a weekly fixture in my life, where my sisters and I could generally be found dancing at the MoHo on Wednesday nights. I've got a lot of fond memories from those days, and I've often wished for more like that.  But my love for the Hearts goes beyond nostalgia; they were, and are, a terrific group of talented artists, their albums are always in my rotation, and I'm always happy to be able to catch them whenever they've got a rare gig booked.
As luck would have it, they're playing a few times this year: in Toronto, at the Dakota Tavern on November 9, and in Peterborough, at the Red Dog Tavern, on December 74.  I'd really, really recommend that you check them out live if you can.