The indie-folk-pop1 scene is pretty crowded these days, with lots of banjos, high young female voices, tinkly bits, and pretty harmonies.  A lot of it is passive and forgettable, even when well-done, but not Austin Texas' Wild Child, who  have an underlying toughness, bittersweet and dangerous, that lingers in your mind alongside the sweet harmonies and pretty guitar licks.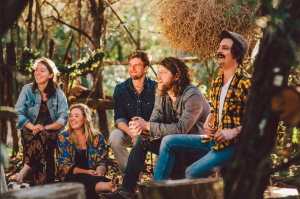 That's not cast any shade on the arrangements of the songs, either; it's clear that the musicians in Wild Child are skilled players and have a great ear for where to place the elements of a song.  They stand out in the crowd, because they are head and shoulders above the other players out there in the same style. Leaning occasionally towards an upbeat, almost folk-rock-y style with occasional hits of classical and straight pop, there's a depth to the music that's often missing in other acts aspiring to the same thing.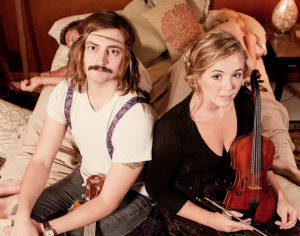 More than that for me, of course, is that sense of darkness and danger that seeps into the music; even the more romantic songs seem to be precursors to Murder Ballads or the opening paragraphs of one of the Brothers Grimm's darker fairy tales.  It's Bonnie and Clyde just before they started robbing banks.2  It's the way the cello runs underneath lead vocalist Kelsey Wilson's vocals on Left Behind, and the way that the she and Alexander Beggins'3 voices play off of one another.  The lyrics on their most recent album, The Runaround, don't necessarily suggest a darker interpretation, but the way they sing them and the instrumentation seems to suggest that there's more to the story.
I might be making these guys sound a little creepier than they really are; they're also a tonne of fun, occasionally rocky or boppy, and firmly the kind of band that you want to see on festival stages and in busy bars.  There's nothing twee about them; they're a band that I imagine will be a lot of fun to see live – and I'm really looking forward to doing just that in a couple of weeks at Hillside Festival in Guelph, where I'll be reprising my role as an emcee and camping with my dear friend Lesley.
Check out a live performance from Audio Tree:4