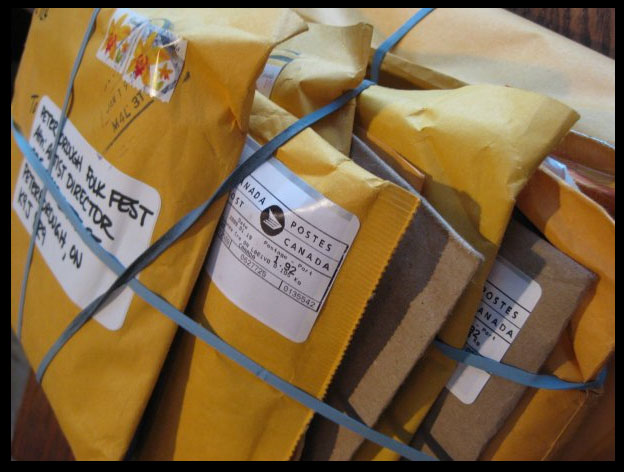 Listening to 2012 Festival Submissions: Part 1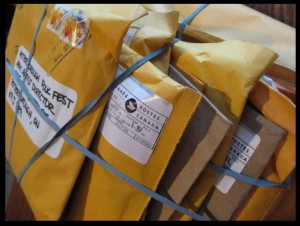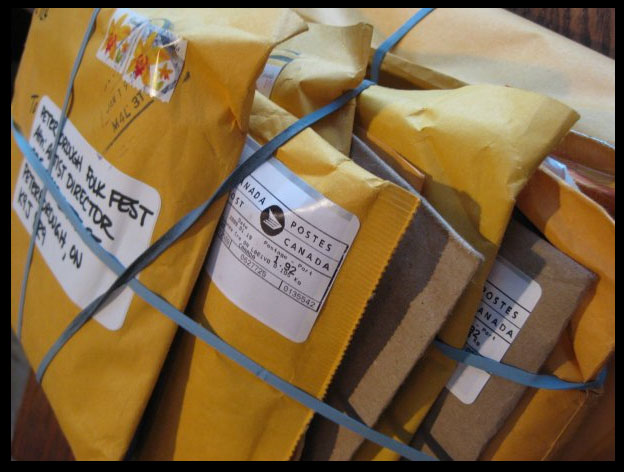 I'm entering my sixth and final year as the Artistic Director for the Peterborough Folk Festival, August 24 – 26, 2012. It's been an interesting job, full of astonishing discoveries of both very good and very bad music and insights into human character. We've come to that time of the year where I stare down the enormous pile of submissions and start to chip away at it, one song at a time.
If you're interested in my immediate reactions and thoughts while I listen, you could follow along on myTwitter account, where I mostly bitch about the things that artists do which are driving me crazy as I see them over and over again.
While we're on the subject, I have a page of Resources for Musicians which contains a lot of info about approaching bookers and promoters, and in particular, I wrote an article called 10 things I want musicians to know, which does what it says on the tin.
Here's a list of artists who I listened to today who caught my positive attention for one reason or another; being included in this list doesn't mean I'm going to book them (tho I've noted the ones that are shortlisted for PFF 2012), or even think they're right for our festival, but it does mean I think they're doing something right, whatever that's worth.
Tops (Montreal) – Though their photos kind-of make you want to do something to crack that hipster facade, and their sound took me about 10 seconds to adjust to (in a sea of acoustic entries, your ears just aren't accustomed to that much synth/electric), I really like Tops' sound and
Fort York (Toronto) – It's the track 'Mary' that particularly caught my interest, but that maybe because I have a thing for banjos. I think these guys would be terrific live, in an intimate venue.  Solid band; useless website.
Joal Kamps (Calgary) – Joal's an artists who seems tailor-made for folk festivals – he has a sound that would work on an outdoor stage, and rhythms that are going to work for the low-chair aficionados/tyrants as well as for people who want to get up on their feet and dance. And his website is gorgeous.
The Tequila Mockingbird Orchestra (Victoria) [PFF 2012 Shortlist] – Aside from great musicianship and a strong sense of songwriting, can I say that artists who include a stage plot in their EPK make me happy? When I've booked them and they've forgotten to email it to me, I can still find out what our sound techs need to know. I'm not implying that these guys, or any artists, ever forget to send that to festival ADs, of course. Anyway, I like this band.
Dear Sister (Toronto) [PFF 2012 Shortlist] – A roots trio (sort of?) with great lead vocals, lovely harmonies and solid musicianship (and a banjo. Did I mention I have a banjo thing?).  A sound that would be as sweet in a tiny club or a festival stage.
Kelly Sloan (Dartmouth) [PFF 2012 Shortlist] – Her sound is a little more slick/polished than my usual taste (that seems to be an East coast thing), but her vocals are great, her songwriting is great, and the musicianship and instrumentation on all of her tracks is like, perfect (that's also an East coast thing).  And a quick Youtube search reveals that she's just as good live (and that she shares a name with Miss South Carolina 2009).
Nick Ferrio and His Feelings (Peterborough) [PFF 2012 Shortlist] – I've known Nick for ages, and it sure has been nice to see him find his own voice and settle into it so beautifully. Great songs, great players, and a really strong sense of self, which makes him stand out.
Orchards (Toronto) – I can't tell if I really like this band or not. I like a lot of things about this band, but I feel like maybe they haven't quite settled into their final sound yet?
Silvergun & Spleen (Cantley, PQ) – Something about the guitar on 'Kiss & Tell' and the general arrangement reminds me of stuff I listened to in high school in the best way.  The rest of the music I heard didn't light my head on fire, but they're a pretty new band, and there's lots of potential there.
Sarah Jane Scouten (Montreal) [PFF 2012 Shortlist] – I like her voice, and her lyrics, and the instrumentation. While listening to her songs, I was picturing her on the main stage at Shelter Valley just before sunset on a warm Summer night. Golden.