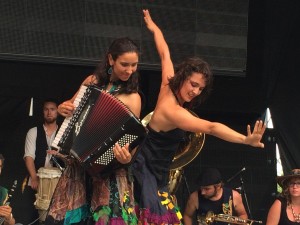 2017 Canadian Festival Report Card
The 2017 Festival Report Card is here! For the past twenty years, the music industry has seen its stages dominated by men in most genres and scenes.  With the exceptions of the occasional women-focused festivals, like Lilith Fair, women have tended to see very little representation on stages, and nowhere is that more noticeable than at a festival, where sometimes hours can pass before a woman, a racialized person, or an LGBTQ, Two-Spirited, or Gender Non-Binary person walks on stage as a member of a band.
With that in mind, we've been tallying up the numbers, and are presenting them below. We'd like to give a huge thank you to the many volunteers who helped out with this project this year!
This list is presented in the spirit of information-sharing – often, bookers and Artistic Directors don't realize how off-balance their lineup.  The numbers below reflect a serious and positive change in the numbers of women-fronted bands on festival stages – over the past four years, numbers have definitely increased. You can see the 2016 Festival Report Card here, which focused on Ontario Folk Festivals.
We are calling on all music bookers, regardless of venue, format, or genre, to book 50% women-fronted bands in 2018, and a strong percentage of racialized people, LGBTQ people, two-spirited and non-binary people.
We know that the music scene in Canada has more than enough talented and skilled artists for this to be an achievable goal. We know that bookers can do better.
This is not an attempt to single out a particular scene, but is a simple snapshot of where the numbers sit in an easily-identifiable group. We have included festivals from each Canadian province and territory.
If you'd like to anonymously submit the numbers for a festival which doesn't appear on this list, please fill out the form here and we'll include them in an update.
Method
Because side-players often change and the lineup of a band is not always consistent or dependable, we've chosen to count bands fronted by women-identifying people.
For the purposes of this research, CWWIM defined "acts fronted by women-identifying people" as any act appearing at a festival which was:
 a solo woman-identifying performer
a duo with at least one woman-identifying person
a larger group in which a woman-identifying person or women-identifying people played a significant role (more than a backup singer or side player)
If it was clear an act did not meet these criteria, it was classed as "non-women-led"; if it was impossible to determine, it was classed "unknown"
At this time, we do not feel like any member of our team is qualified to accurately assess the numbers of racialized people, Indigenous people,  LGBTQ people, Trans people, Two-Spirited, or non-gender-binary people appearing on stages at festivals, but we note that we believe these numbers to be lower than the numbers of women-fronted bands, and we know that there exists more than enough talented artists in both groups to see higher numbers on stages in Canada.
We cannot stress this enough – even festivals with A grades have a long way to go in order to represent the depth, breadth, and variety of talent available in this country, and in particular should focus on booking more Indigenous and Inuit artists and ensuring that marginalized artists are paid as well as non-marginalized artists.
Though there are flaws in this method, we think it's accurate enough to shine a light on the representation of women on festivals stages across the country.
We are pleased to see so many festivals with an A this year – 30 out of 89! – and hope this annual report card encourages the other festivals on this list to reach for an A in 2018.
Summary
30 festivals got an 'A'
89 festivals were graded
Every province and territory in Canada is represented in this report card
As a group, these 89 festivals get a 'B' grade, booking 36.5% women-identifying artists
We recognize the need to broaden our count to be more inclusive; we will continue to strive for that in 2018 and every year
2017 Festival Report Card
Please note that we are updating this list with new festivals as they are submitted, and also with feedback from festivals about their numbers. You can click here to submit a festival.
A    45% – 50%+ (30 festivals)
Haliburton County Winter Folk Camp ON –  100%
Harmony Bazaar NS – 100%
Venus Festival ON – 92%
Femme Wave Feminist Arts Festival  AB – 90%
Dawson City Music Festival YK – 75%
X Avant New Music Festival  ON – 71%
Ottawa Grassroots Festival  ON – 70%
Home County Music and Art Festival ON – 69%
Up Here Festival ON – 65%
Peterborough Folk Festival ON – 64%
Electric Eclectics  ON – 60%
Shelter Valley Folk Festival ON – 59%
The Roundhouse Craft Beer Festival  ON – 56%
Live From The Rock Folk and Blues Festival ON –  55%
Ottawa Explosion Weekend ON – 54%
Note: OXW's own count differs from ours, and in our  tally they have 31% women-fronted bands, which is an C grade. They are providing us with a list, and we will update.
Regina Folk Festival SK  – 53%
Lunenburg Folk Harbour Festival NS – 52%
Halifax Pop Explosion NS – 51%
Bobcaygeon Craft Beer & Food Festival ON – 50%
Groundswell Music Festival – Halifax NS – 50%
Hillside Festival ON – 50%
SaskJazz SK – 49%
Summerfolk ON – 49%
Tiny Lights Festival BC – 49%
Alianait Arts Festival NT – 49%
Shivering Songs NB – 48%
Accordion Noir Festival BC – 47%
Atlin Arts & Music Festival BC – 47%
Interstellar Rodeo – Edmonton AB – 45%
Lawnya Vawnya NL – 45%
B    35% – 44% (23 festivals)
In The Dead Of Winter Festival  NS – 44%
M for Montreal QC – 44%
Skeleton Park Arts Festival ON – 44%
Cultivate – A Festival of Food and Drink ON – 43%
South County Fair AB – 43%
The Black Top Ball NS – 43%
Flourish Festival NB – 43%
Stewart Park Festival  ON – 42%
CityFolk ON – 42%
Roncy Rocks ON – 41%
Newfoundland and Labrador Folk Festival NL – 41%
Area 506 Festival NB – 40%
Vancouver Island Musicfest BC – 40%
Calgary Folk Music Festival AB – 39%
Interstellar Rodeo – Winnipeg MB – 39%
Dawson City Music Festival YT – 39%
Vancouver Folk Music Festival  BC – 38%
Mariposa Folk Festival ON – 38%
Folk on the Rocks NWT – 37%
Ness Creek Music Festival SK – 37%
Winnipeg Folk Festival MB – 37%
Note: This mark is based on WFF's own count, which differs from ours.  Via our method, they got 24% – a D grade.
Edmonton Folk Festival AB – 35%
Northern Lights Festival Boreal ON – 35%
C    25% – 34% (13 festivals)
Nova Scotia Music Week NS – 34%
Gros Morne Summer Music NL – 33%
Burnaby Blues and Roots Festival – BC – 33%
Halifax TD Jazz Festival  NS – 33%
Ottawa Explosion Weekend ON – 31%
Note: OXW's own count differs from ours, and in their tally they have 54% women-fronted bands, which is an A grade.
Osheaga QC – 29%
Cavendish Beach Festival PEI – 29%
Ottawa RBC Bluesfest ON – 28%
Harvest Moon Festival MB – 28%
Pelee Island Festival ON – 27%
Blue Skies Festival ON – 27%
Back Lot Bash – Garrison Brewing NS – 25%
D – 15% – 24% (10 festivals)
Tay Creek Festival NB – 24%
Winnipeg Folk Festival MB – 24%
Note: WFF's own count differs from ours, because they count using a different method.  By their count, the percentage is 37% – a B grade.
Kempt Shore Acoustic Festival NS – 21%
Living Roots Festival NB – 21%
Halifax Urban Folk Festival  NS – 19%
Harvest Jazz and Blues Festival NB – 18%
Note: they were initially reported at 14%, an F mark.
New Glasgow Jubliee NS – 17%
Paddlefest 2017 NB – 16%
Stan Rogers Festival NS – 15%
F 0% – 14% (13 festivals)
I'm just skipping 'E' and going straight for 'F' because this grade is shameful.
George St. Festival NL – 13%
Iceberg Alley NL – 13%
Bach Music Festival Of Canada ON – 13%
Peterborough Music Fest ON – 12%
Locke Street Festival ON – 11%
Tottenham Bluegrass Festival ON – 10%
The Hootenanny on Hunter ON – 8%
Fork and Cork Windsor ON – 5%
DT Concert Series  ON – 6%
Veld Festival ON – 2%
Montebello Rockfest QC – 2%
Summertime Blues ON – 0%
Did we get something wrong or leave something out? Feel free to tell us about it in the comments.  Please be nice; we're humans, just like you. (edit)