Saturday was a beautiful day in Ol'Toronto, and I'd spent most of the afternoon in Riverside, catching an historical tour of the neighbourhood.1 I decided to grab some Thai take-out on the way home, and explore some areas of town I hadn't been through yet, and I meandered along, across the Don River Valley and into Regent Park.  I'm endlessly curious about anything that looks like a free festival, so when I saw tents selling food and jewelry, I ducked down that street to check it out.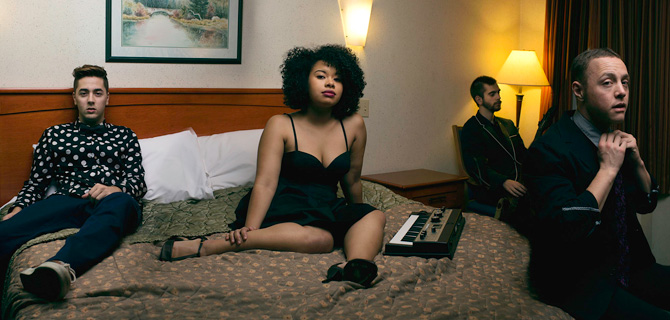 I got a very friendly greeting at all of the booths I stopped at, and asked what the event was; it turns out it's Regent Park's Annual Block Party, with vendors, food booths,2 and performances all day. It's a great mix of neighbourhood talent, with dancers, a fashion show, and lots of music. My timing was impeccable, because about just as I settled in to watch, Unbuttoned came on stage.
There was a palpable excitement in the crowd that had gathered, and the moment that Unbuttoned began, I knew that it was more than just a neighbourhood buzz for some hometown kids.  The band's stage presence belies their relative inexperience; though they've only been together for a few years, they've got the poise of seasoned performers.  Confident and focused, they played to a sunny alleyway on a makeshift stage with maybe 200 people with as much energy and joy as though we were a sold out room of five thousand.3
With vocals shared by Casey MQ and Kamilah Apong, they've got a terrific interplay of male and female voices which each bring a unique and contrasting flavour to the music.  I feel like contrast is the defining feature of their arrangements; sometimes it stands solidly on a pop footing, and then pulls in some terrific non-pop element out of nowhere that shouldn't work, but somehow still does.  It's delightful and surprising, and masterfully done.
I'm a big fan of bands that look like they're having a great time on stage,4 and I love the friendship between the two lead vocalists.  You can tell that they love performing together, and that they are pushing each other to new heights.  It's a pretty wonderful thing to see a positive collaborative relationship in action; from an audience perspective, it's completely inspiring.
They're playing at Ryerson's Lake Devo on August 305, so check it out if you're in Toronto; you can also listen to their most recent album over here and buy it, too!
Seriously, tho – go see the live show.  It's so good.
http://youtu.be/pP5pDIBrus0?t=20s