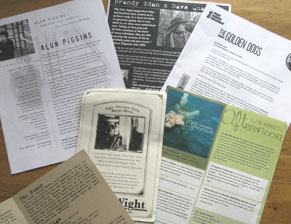 Music Marketing Web Seminar
Monday, November 26, 2012, 6:30pm EST – Online!
Members of Folk Alliance International, Folk Music Canada, the Ontario Council of Folk Festivals and Manitoba Music can receive $5 off the seminar price with their promo code.
What goes in a bio, and what doesn't? How do you approach bookers? Does your website have the right content and resources? Do your photos tell your audience who you are?
If you're an independent musician, chances are you've asked yourself these questions and more while trying to market your work.  With a plethora of music promotion apps online, social media, and countless other platforms, music marketing has never been so accessible, but it's also never been so confusing.  With all of these tools at your fingertips, what's the best path to make sure you stand out above the crowd?
Join Candace Shaw for a Music Marketing Webinar as she outlines what makes a musician's marketing great and what drives bookers and promoters crazy.  With over 15 years of experience as a booker and promoter, Candace has seen thousands of promo packages and artist submissions from bands around the world, and has a keen sense of what does and doesn't work.  She'll guide you through the pitfalls of creating or refining your promotional materials and warn you about some of the most common mistakes that artists make when submitting to venues or festivals.
All you need to participate is a computer and an internet connection which can stream a live video feed from the web.
The Peterborough Folk Festival is a three-day annual music, arts, and community festival in the heart of beautiful Peterborough, Ontario. The PFF also sponsors events, workshops, and a concert series throughout the year.
Candace Shaw is an arts impresario who worked as Artistic Director for Peterborough Folk Festival from 2006-2012. In addition, she has been active on the Boards of the Shelter Valley Folk Festival and the Ontario Council of Folk Festivals, and has also been a juror for FACTOR, the JUNO Awards, and other arts organizations. She runs a marketing business called Secret Frequency.